Interactive Games
Become A Marketing Magnet With Interactive Inflatable Games
Designed and built for commercial use, Bigger Than Life's Interactive Games ensure that your event is filled with fun and excitement for people of all ages! In addition to inflatable pavilions, inflatable concession stands and inflatable display kiosks, you're covered from start to finish with eye catching appeal and total excitement!
3D Branding Benefits:
Create Involvement With Your Brand

Engages With Social Sharing

Light Weight and Easy To Transport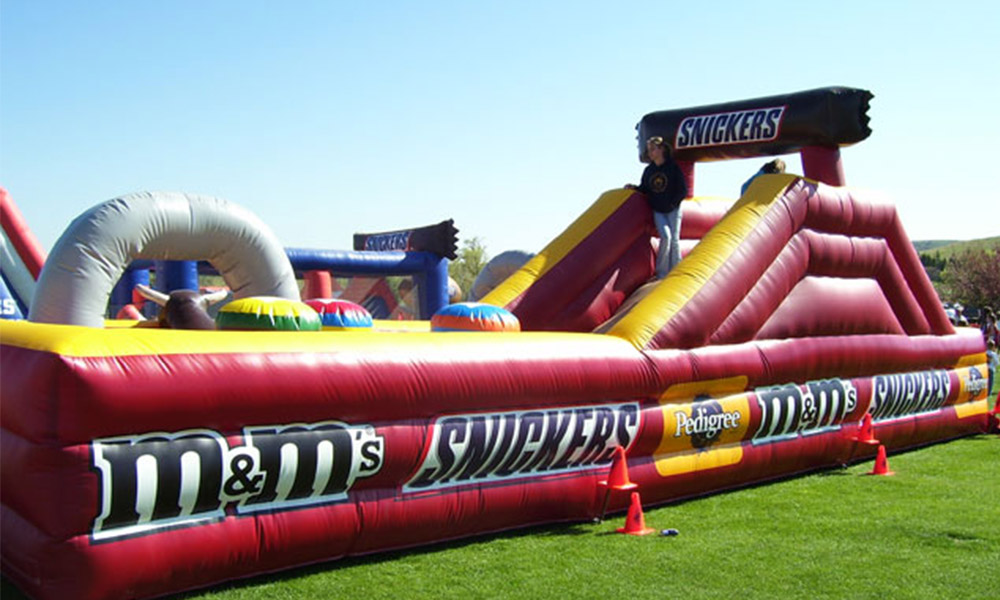 More Information:
Only the finest materials, inks, and inflation systems are used in construction
100% digitally printed
Continuously running electric blower inflated units
Our products are commercial grade, designed for HEAVY use
Highly durable vinyl coated nylon, with ultraviolet inhibitors to stand up to long-term weather
All seams double-needle lock-stitched for durability
Optional heavy duty shipping and storage containers
Interactive Options
Giant Inflatable Interactive Games help you stand out from your competition and make a BIG impression!
Single or Multi-Person Games
Sports Booths
Practice Walls
Obstacle Courses
Bungee Runs
Giant Slides
Player Presentation Tunnels
Containment Systems
Bouncies
Blow Up The Fun
People love to play games, and if your company can help facilitate that fun, it's an automatic marketing win. Bigger Than Life can create a multitude of inflatable games like inflatable bungee runs, inflatable sports booths, inflatable obstacle courses, bounce houses, and more! Bigger Than Life can make sure your game is a one-hundred percent branded experience by utilizing digital print on the inflatable surfaces or creating custom shapes to represent your products or services within the game as well. We have over 30 years worth of experience creating interactive inflatables, and you can rest assured your inflatable game is made with the highest safety standards to keep consumers safe.
We Work With Winners!
Not only have we created inflatable games for some of the world's leading brands and companies like AT&T, Coors, Mars, Taco Bell, and many more, we have worked with some of the biggest teams and sports leagues in the United States as well. Big leagues or small, we want to make sure the interactive inflatable we create for you is a real winner! Plus, Bigger Than Life can tie these worlds together by creating co-branded inflatable games for corporate sponsors to use at sporting events, helping create a more interactive experience for fans at the game.
Marketing Inflatable Advantages
Nothing gives you a more prominent in-person 3D branding presence than marketing inflatables. They inflate big in minutes and pack down small when deflated, making them easy to transport and store. Inflatables can be made into any shape or design you can dream of, so the sky is the limit when it comes to creativity. Whether it is a gigantic cold air inflatable unit for an event, or a small sealed inflatable for a POP (Point-Of-Purchase) / in-store retail display, all of our inflatable products are designed using computer modeling to ensure an accurate representation is created.
Unlike billboards, radio, print, or online ads, which are a one-time investment – inflatables are re-useable. You can't shift billboards from one place to another, but you can take the same custom designed giant inflatable product unit to different events, festivals, or trade shows and promote your business successfully. Plus, they are easy to use and set-up. You can get an inflatable set-up in a few minutes, and depending on the size of the unit; it may only require one or a few people for installation and set up.
Inflatables are fun and capture the imagination, plus they provide a natural photo backdrop perfect for selfies and other pictures your customers may share on social media helping to spread your brand online. These are true workhorses for your marketing objectives! If you take good care of your inflatables, they will last more than a decade.