Custom 3D Creations
Use Giant Inflatables For The Ultimate Brand Explosion
Giant inflatables make a BIG impression with dramatic impact and increased brand presence! Whatever the venue, Giant Inflatables create tremendous visibility, heightened interest and low CPI. It's no wonder that whenever there's a Giant Inflatable at an event or promotion there's a social media STORM!
3D Branding Benefits:
BIG Ideas with a BIG Payoff!

Engages with Social Sharing

Light Weight and Easy To Transport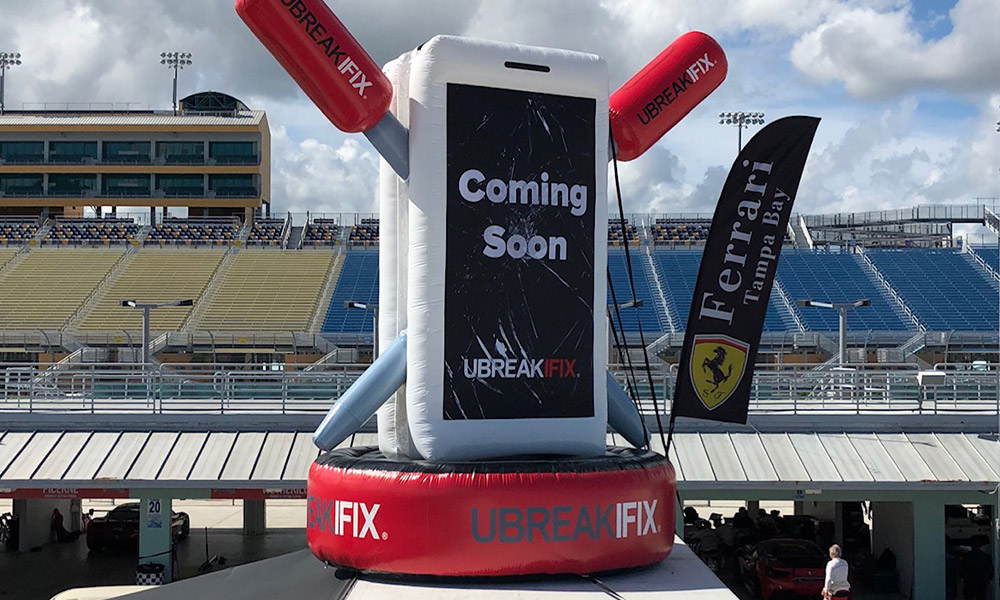 More Information:
Top quality design, materials and construction
Realistic 3D custom replicas of products, characters and logo designs
High definition digital print
Continuously running electric blower inflated units
Durable vinyl coated nylon, with ultraviolet inhibitors to stand up to long-term weather
All seams double-needle lock-stitched for industrial strength
Optional animation and special effects
Optional internal and/or external lighting
Optional heavy duty shipping and storage containers
Artistic Value
Not only do we create giant cold-air inflatables for some of the world's biggest brands, but Bigger Than Life has become the go-to partner for many artists that want to use inflatables as an artistic medium. We genuinely care about the art of inflatables and love bringing an artist's giant vision to life. We have designed many inflatable sculpture pieces for American contemporary artist Paul McCarthy. Many of these massive inflatable sculptures have been showcased across the globe and have caught international news medias' attention. Bigger Than Life also had our inflatable art installations in some of the world's greatest museums and galleries, including the Tate Modern in London, Whitney in New York City, and Frieze Art Faire.
Durable Construction
One of the main reasons people decide to go with a cold air inflatable vs. a sealed airtight inflatable is durability. However, the strength of an inflatable does not solely come down to how it is inflated. Many factors contribute to the durability of an inflatable, including material choice, panel design, sewing technique, and size. Since 1985, Bigger Than Life has prided itself in making the best inflatable marketing assets in the industry. Some of our giant cold air inflatables are still being routinely used by our clients for more than a decade. Thankfully, packaging and graphics changes allow for us to stay engaged with our long-term customers, as our products often outlast the branding. To keep your inflatables looking their best, we also offer in-house maintenance and repair services for those occasions that something goes awry.
Marketing Inflatable Advantages
Nothing gives you a more prominent in-person 3D branding presence than marketing inflatables. They inflate big in minutes and pack down small when deflated, making them easy to transport and store. Inflatables can be made into any shape or design you can dream of, so the sky is the limit when it comes to creativity. Whether it is a gigantic cold air inflatable unit for an event, or a small sealed inflatable for a POP (Point-Of-Purchase) / in-store retail display, all of our inflatable products are designed using computer modeling to ensure an accurate representation is created.
Unlike billboards, radio, print, or online ads, which are a one-time investment – inflatables are re-useable. You can't shift billboards from one place to another, but you can take the same custom designed giant inflatable product unit to different events, festivals, or trade shows and promote your business successfully. Plus, they are easy to use and set-up. You can get an inflatable set-up in a few minutes, and depending on the size of the unit; it may only require one or a few people for installation and set up.
Inflatables are fun and capture the imagination, plus they provide a natural photo backdrop perfect for selfies and other pictures your customers may share on social media helping to spread your brand online. These are true workhorses for your marketing objectives! If you take good care of your inflatables, they will last more than a decade.