Event Structures
Make your next event even more EPIC by going BIGGER!
Dominate your indoor footprint and outdoor events & activations with 3D Inflatable Tents, Inflatable Pavilions, Inflatable Arches and Inflatable Kiosks. These over the top highlighters are the next generation in special event marketing. Stock or custom designs can be created to work with your budget and promotion objectives.
3D Branding Benefits:
Create Involvement With Your Brand

Engages With Social Sharing

Light Weight and Easy To Transport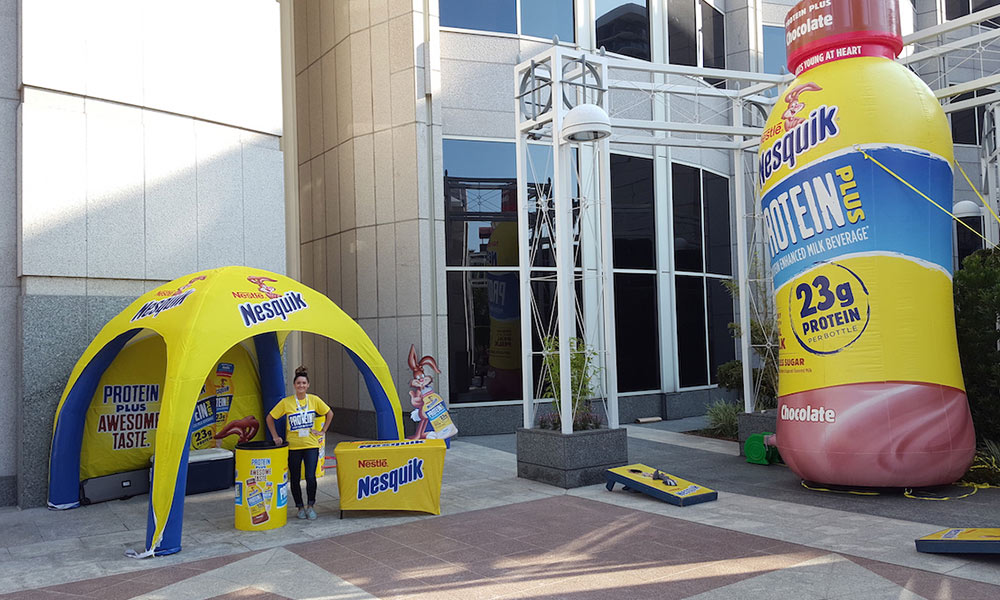 More Information:
Drive foot traffic
Enhance experiential efforts
Attract attendees and engage your audience instantly
Quickly and easily elevate your branding
Amplify your event sponsorship investment
Steal the spotlight with your BIG footprint
Life on the Road
When you need to take your marketing efforts on the road as part of a college tour, sampling program, mobile trade show, or other event, having a Bigger Than Life branded structure that packs down small and gives you a big presence provides many advantages. Depending on your needs, inflatable event structures can be made as a sealed inflatable or cold air inflatable. These inflatable structures are simple to set up and can be up and ready within a matter of minutes. They also provide 360-degree branding as digital printing can be done on both the building's interior and exterior. We can do it all from your standard inflatable spider tent all the way to a completely custom structure designed specifically to your needs.
Race Promotions
Whether you want to create a big, branded finish line with an inflatable archway or alleviate the heat with a custom misting tent – inflatables are a great way to help enhance your race day marketing efforts. With running always in style, you can use these inflatable items for multiple events over the years. Bigger Than Life can create your standard arches, and generic inflatables, but we would love to help you create something super uniquely yours! The Bigger Than Life custom inflatable archways, misting tents, and entrance tunnels we have done for a multitude of corporate clients like Brooks Running, Google, Sony, and many others helps each of them to show just "Who Sponsored This Event!"
Marketing Inflatable Advantages
Nothing gives you a more prominent in-person 3D branding presence than marketing inflatables. They inflate big in minutes and pack down small when deflated, making them easy to transport and store. Inflatables can be made into any shape or design you can dream of, so the sky is the limit when it comes to creativity. Whether it is a gigantic cold air inflatable unit for an event, or a small sealed inflatable for a POP (Point-Of-Purchase) / in-store retail display, all of our inflatable products are designed using computer modeling to ensure an accurate representation is created.
Unlike billboards, radio, print, or online ads, which are a one-time investment – inflatables are re-useable. You can't shift billboards from one place to another, but you can take the same custom designed giant inflatable product unit to different events, festivals, or trade shows and promote your business successfully. Plus, they are easy to use and set-up. You can get an inflatable set-up in a few minutes, and depending on the size of the unit; it may only require one or a few people for installation and set up.
Inflatables are fun and capture the imagination, plus they provide a natural photo backdrop perfect for selfies and other pictures your customers may share on social media helping to spread your brand online. These are true workhorses for your marketing objectives! If you take good care of your inflatables, they will last more than a decade.